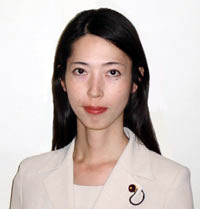 1968 Born in Tokyo.
1990 Graduated from the School of Business Administration, Hosei University. Started to work in PR for a charitable organisation as a male employee.
1995 Resigned from the post due to the overwhelming stress from working as male. Began the process of gender transition through hormonal treatment.
1998 Diagnosed as Gender Identity Disorder (GID) by a psychiatrist.
1999 Employed as a female staff member at a private company.
2001 Committee member for Trans-net Japan, a self-support group for transgender people, and organised meetings and social events to give support and symposiums to raise the public awareness. (since January 2001 till May 2003)
2003 Stood up for the election for the Setagaya ward assembly as an openly transgender candidate in February.
2003 Elected for the Setagaya ward assembly, the 6th on the list among 72 candidates in April. Currently serving its four-year term.
2005 Allowed to change the sex from male to female on the national register after the enactment of the law concerning special rules regarding sex status of a person with gender identity disorder.
Ms. Kamikawa worked as female in several companies for few years before going into politics as an editor of journals on public projects and educational materials.
She could not apply for permanent posts as there was no legislation to allow the change of sex on the public documents.
On 10th of July, 2003, the law concerning special rules regarding sex status of a person with gender identity disorder was passed after the tireless lobbying of transgender people and their supporters. The enactment of the law on the16th of July in 2004 paved the way for people to change their sex on the national registrar under specific conditions. 330 transsexual people changed their sex by the end of 2005.
As a Setagaya ward assembly member, Kamikawa's political mission is not limited to the LGBT(lesbian, gay, bisexual and transgender) issues. She is devoted to work for various groups of minorities in society, from people with visual and/or hearing disabilities, ostomates, single-parent families, homeless people to evening junior high school students, as well as LGBT people, and she strives to give support for these people and bring positive changes which would help them in society.